SFO's Terminal 1 moves along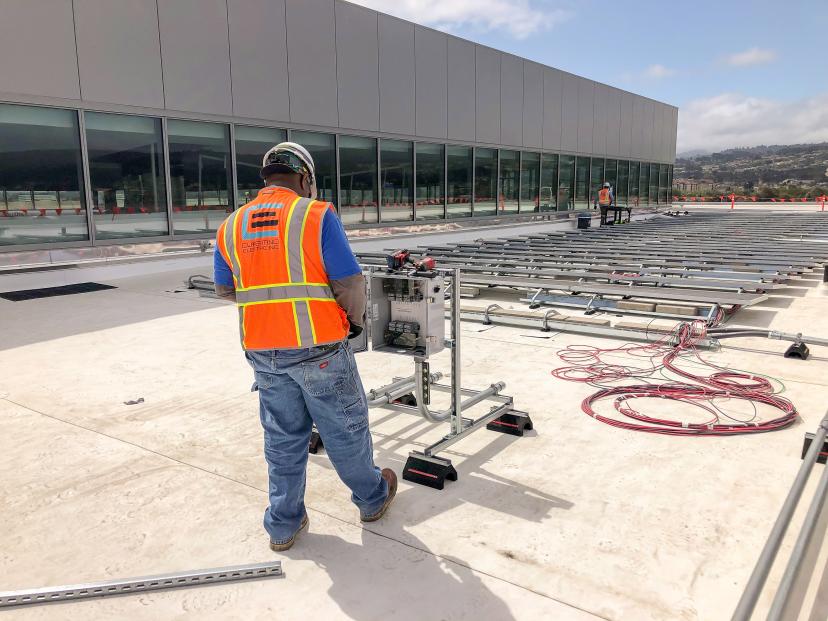 Standing on an impossibly bright, white roof at SFO's Terminal 1 where CEI electricians are installing a 1.2 MW solar PV array, Senior Project Manager Ralph Lucas looks out over the tarmac and says, "A plane takes off every 10 seconds." SFO is always moving.
Terminal 1, also known as the Harvey Milk Terminal, is a multi-year, $2.4B project that replaces the much older, very dated building that once stood at the airport.
Lucas has been with CEI for 17 years building casino, data center and commercial projects and today oversees the massive SFO project. "When I heard Kelly Johnson was going to be superintendent, that made the decision to join the team pretty easy." The two had worked together at the Thunder Valley Casino project in the early-2000s.
Terminal 1—or any terminal for that matter—is more complex than an airport traveler might realize. Because of the anxiety airports cause people and the number of travelers who enter the building, airports are designed for simplicity and efficiency. However, above the pristine ceiling drop tiles and behind decorative wall panels, are hundreds of miles of wire and thousands of hardwired devices that keep plane schedules on time and airport passengers moving safely.
Building such a facility is an orchestrated effort. Multiple general contractors and sub-contractors work the project. CEI is one of several large electrical contractors at SFO working on various scopes of work at the airport. To meet diverse and small business requirements, CEI is working closely with other contractors like Becker Electric and Liberty Electric on different components of the low voltage systems. This arrangement has allowed CEI to establish deeper partnerships with smaller local businesses, supplement manpower and meet aggressive SFO requirements.
When the current phase finishes next month, Terminal 1's nine gates will accommodate large planes like the 777 or A340. The new terminals will be branded with Southwest Airlines and Horizon Air, and at least two of the gates will be designed to accommodate other airlines when needed. The estimated completion date of the entire, multi-phase project is May 2021.