A software guide for the aspiring BIM professional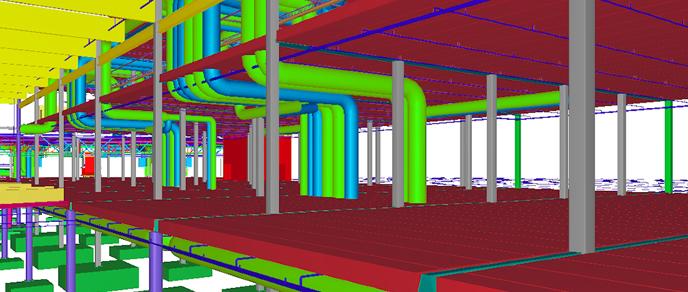 A small, three-letter acronym is creating a big splash in the constantly-evolving world of construction and engineering today, and is helping to fuel significant changes already underway in the industry.
Building Information Modeling, or BIM, has been heralded as one of the most important recent advancements in the construction industry. But it will take a new brand of Architecture, Engineering, Construction, and Operations (AECO) professionals to squeeze the most out of this burgeoning technology, with the future efficacy of BIM relying heavily on the up-and-comers.
BIM encompasses many different facets that use a variety of authoring and viewer tools to leverage its benefits. Today, we at Cupertino Electric utilize the following virtual design and construction tools on a daily basis:
AutoCAD® MEP: While not a true parametric modeling tool, AutoCAD MEP satisfies 2D and 3D conceptual designs and construction applications. It also provides a BIM-capable component in the arena of clash detection in construction coordination requirements.
Revit®: The most comprehensive BIM authoring tool in use, Revit allows our engineering and detailing BIM teams the ability to internally collaborate and increase the exchange of parametric information as a design evolves into a truly constructable as-built component. Engineering is able to provide a foundation for which detailing can further develop throughout the construction life cycle of a project.
Navisworks®: An industry tool of choice for clash detection, we use this to maximize years of experience of interference resolution with BIM to collaborate and assist in the process of construction coordination.
BIM 360 Glue®: Yet another clash detection tool, this tool is a cloud based interface allowing our internal teams to collaborate more proactively with external teams and clients throughout the design, coordination, and construction phases of a project.
Trimble Total Station®: Total Stations offer construction-specific functionality and one-person operation so we can perform all job site layout and measurement tasks for maximum flexibility and cost savings.
3D Studio Max®: An important visualization component to the BIM process, 3D Studio Max allows us to develop rich renderings, animations, and stills of the Building Information Models created in-house for various aspects of a project, and helps us win new business.
Advice for BIM Job-Seekers
Since the AECO industry has so widely adopted the use of Revit as the authoring and BIM requirement tool of choice over the past several years, students seeking a career in the industry should familiarize themselves with Revit. While Revit is not the only authoring tool in the industry, it is certainly the most widely-used and is a solid foundation for the junior BI professional.
The really important part of building a BIM skillset is realizing how the technology interfaces with the nuts and bolts of a construction project. Whether it is the Demand Factor used in a particular circuit, or the quantity of B-Line support structure on a particular project, understanding how that information is developed, applied, and exchanged is what truly defines how BIM is best utilized and delivered to a project owner. That process starts with the design and detailing author.
The Future of BIM
The BIM process has been evolving at an accelerated pace over the past five years, which far exceeds its evolution in the previous five years. Since BIM technology is at the forefront of the AECO industry, the focus today and tomorrow on maximizing the value of not only the information that is incorporated into a model, but the interoperability of the information shared across numerous platforms to deliver a multitude of services to the owner. That evolution now extends into the realm of Facilities Management / Operation and Maintenance (FM/OM), allowing owners and management teams the means to collect data about their facilities in a fraction of the time it took traditionally, and to manage their assets with real-time feedback and accuracy.
Over the next five to ten years, we can expect to see deeper access and integration into the facilities models, not only for record keeping, but for true performance value mapping and life-cycle cost analysis. From design teams to contractors to owners, the ability to streamline delivery processes and create real collaborative efficiency will drive a more tightly integrated approach to building construction.