Cupertino Electric Wins "Prime Supplier of the Year" Award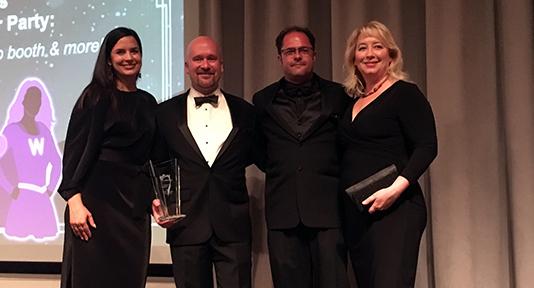 Recognized for Commitment to Supplier Diversity, Community Growth
SAN JOSE, Calif. — Construction and engineering firm Cupertino Electric, Inc. (CEI) today announced that it was honored with the 2018 "Prime Supplier of the Year" award from WRMSDC, an advocacy council dedicated to furthering growth and opportunities for minority businesses, at a ceremony held May 18, 2018 in San Ramon, California.
Cupertino Electric's work for utility companies like Pacific Gas and Electric (PG&E) utilizing disadvantaged, veteran and minority-owned businesses were the catalyst for the award. WRMSDC selected Cupertino Electric for the award based on the company's purchasing practices, work in the community and commitment to working with diverse suppliers.
"It is such an honor to receive the Prime Supplier of the Year Award from an important and respected organization like WRMSDC," said Gaylon Morris, senior vice president of strategic growth and market development. "We at CEI are grateful to work with companies like PG&E who encourage us to keep pushing the supplier diversity envelope. We also recognize that, without the subcontractors and suppliers who have enabled our success, it wouldn't have been possible for us to have been honored in this way."
About Cupertino Electric, Inc.
Cupertino Electric, Inc. (CEI) is a Silicon Valley-based electrical engineering and construction company that builds the infrastructure that allows forward-looking companies to realize their vision. Founded in 1954, CEI is one of the largest specialty contractors in the U.S. serving commercial, renewable, utility and data center customers. The company designs, procures, constructs, installs, commissions and maintains technically-complex projects fast and without compromise. When failure is not an option, customers choose CEI. For more information, visit www.cei.com.
# # #
Press Contact: Autumn Casadonte (408.8080.8034 or autumn_casadonte@cei.com)