Project Details
Name:
Rebuilding Together 2016 (non-profit)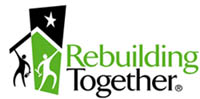 Description:
Non profit volunteer residential repair project
"I feel so grateful; I don't know what I've done to deserve this (work at my house)."
Rebuilding Together recipient and homeowner Robert Oberdick
Project Summary:
Across Silicon Valley, companies and individuals volunteer to give needy California homeowners and non-profit organizations safer, warmer surroundings. In 2016, Cupertino Electric helped renovate the home of a retired couple in their 80's. Having suffered some medical issues in recent years that limited their mobility, the homeowners that CEI worked with had a crumbling driveway and dangerous sidewalk that prevented them from entering and existing their property safely. In addition, the front door wasn't sturdy enough for exterior use, the house needed paint, and the kitchen was covered in cracks following a botched foundation repair effort. On Rebuilding Day that was held April 23, 2016, 13 dedicated CEI laborers poured a new driveway and walkway alongside several other employees who repaired lighting, patched ceilings and painted the interior and exterior of the Rebuilding Together client home. Generous industry partners Joseph J. Albanese and Granite Rock donated materials for the extensive concrete driveway project.
For more informationon this project, visit CEI's media room blog here or to learn about Rebuilding Together, visit http://rebuildingtogethersv.org/.
Printer-friendly version
Share This Project
SEARCH ALL PROJECTS