Cupertino Electric wins ENR Southwest 2015 Best Project award for Copper Mountain 3 solar installation
Tuesday, September 8, 2015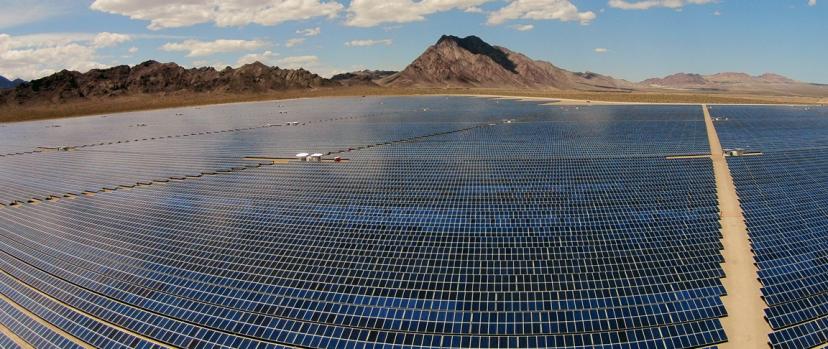 Cupertino Electric, Inc. (CEI)'s 250 megawatt Copper Mountain Solar 3 (CMS3) project was chosen by ENR as a 2015 Southwest "Best Projects" Merit Award winner in the energy/industrial category. The CMS3 team will be honored on Nov. 3 at an event hosted by ENR Southwest in Phoenix, AZ.
Located in Boulder City, Nevada and built by CEI and AMEC Foster Wheeler for Sempra U.S. Gas & Power and Consolidated Edison Development, the CMS3 project spans 1,400 acres and was completed in early 2015. Leading solar EPC contractor Cupertino Electric worked alongside international engineering and project management company AMEC Foster Wheeler and installed more than one million solar photovoltaic modules in rather extreme conditions.
Aside from its massive scale, the remote CMS3 location and adverse conditions during the 17-month fast-track schedule set the project apart from other ENR submissions.
Extreme desert weather, including soaring 115-degree temperatures, lighting strikes, dust storms and snow brought new project challenges every day. Subsurface conditions varied from rocks to cobbles and sand to hard caliche, making the excavation, cable installation and backfill of more than 55 miles of trench very difficult. More than 5,000 semi-truck loads of equipment had to navigate rugged BLM roads to supply the site.
The local wildlife at the CMS3 site added another layer of concern. Crews had to be vigilant to avoid the highly venomous Mojave green rattlesnakes that inhabit the area, as well as mitigate the impact the project had on the protected desert tortoise. The whole project required close coordination as the site team laid down more than 10,000 PV modules a day in an area five miles long by one mile wide.
Overall, it was a phenomenal effort from Cupertino Electric's Energy Alternatives Division. Thanks to ENR for recognizing the hard work and dedication that contributed to the project's success.
To read more and see a full list of award winners, check out ENR Southwest's blog.