San Francisco project wins national ENR award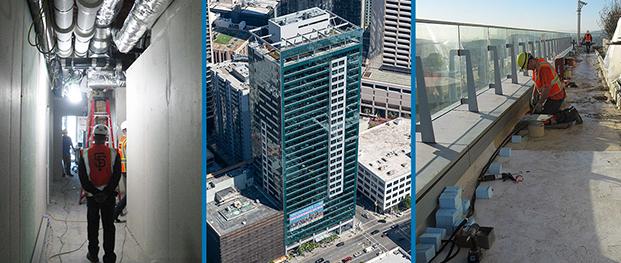 This week's March 14, 2016 issue of Engineering News-Record (ENR) magazine lists San Francisco project 100 Van Ness as the "Residential Project of the Year," recognizing the project as the national award-winner in the magazine's annual "Best of the Best" edition. The 100 Van Ness project features electrical systems installed by Cupertino Electric under the direction of Project Executive Travis McCray and his team, including Project Manager Lana Gee and Foreman Rick Brookman.
100 Van Ness
According to CEI Sales Development Director Kim Nguyen, who was responsible for estimating and securing the 100 Van Ness project in 2012, the phased occupancy requirement made the project particularly challenging. To meet the building owner's marketing and leasing needs, the entire construction team overseen by General Contractor Plant Construction turned over 100 residential units ahead of schedule. This unique aspect took a lot of coordination and teamwork.
"It was a very challenging project," said McCray. "Thankfully, we had a kick-ass foreman named Rick Brookman. I took over the project with Lana (Gee) from a departing project manager and, without Rick on board, the project would not have been as successful."
Another interesting aspect of the project involved the design, which was envisioned by SCB Architects and the interiors were done by renowned Interior Designer Colum McCartan. Together, they transformed the office building that formerly housed the California State Automobile Association into a beautiful residential space that utilized many existing aspects of the building. The entire skin of the building had to be re-applied. Holes were cut into floors, elevators were taken out and new freight elevators put in as part of the design. Converting the building into a new type of space, while utilizing existing infrastructure is what the team believes makes the project truly unique.
"The project was in desperate need of value engineering from the get-go," said Nguyen. "Working closely with the lighting designer and (general contractor) Plant, we were able to control costs and deliver a fixture package that aligned with the performance and aesthetics the architect and lighting designer envisioned for the building."
About the Best of the Best awards
"Best of the Best" projects were chosen by dozens of industry judges and ENR's editorial team based on design and construction achievement among U.S. projects completed between June 2014 and June 2015. Nearly 750 construction-industry project teams were considered from the national pool. In 10 regions, ENR editors assembled panels of judges to select regional winners in 20 categories, which were then considered for the national award. A brand-new set of judges then examined each project to distinguish the best of the best in terms of teamwork, safety, overcoming challenges, innovation and quality. The winning teams, including the 100 Van Ness team, will be honored in New York City on April 7-8, 2016 in conjunction with ENR's Award of Excellence celebration.