What's volunteering got to do with it?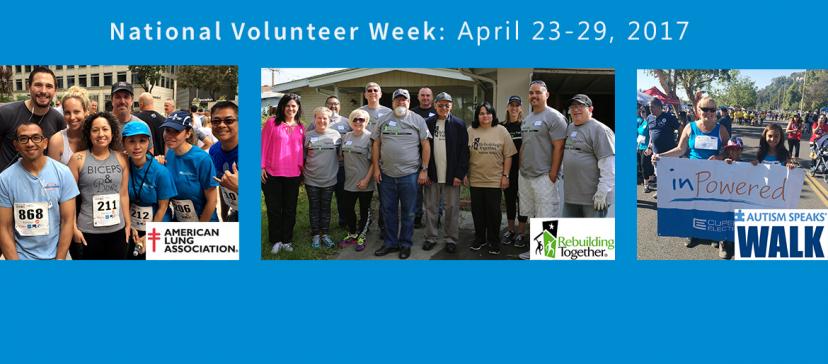 This week is National Volunteer Week, which was created by the Points of Light organization to recognize and celebrate volunteers who lend their "time, talent, voice and support to the cause they care about."
While I love Cupertino Electric's generous volunteer and matching gift policies that encourage employees to give back and contribute to organizations that have meaning for them, what I love even more is the company's focus on partnering with nonprofit organizations on projects that allow the unique talents of our staff to shine. Talents like upgrading facilities or electrical infrastructure that allows nonprofits to serve clients better. Talents like identifying and assembling the right team of volunteers to tackle a project safely and efficiently to maximize volunteer time and the resulting impact.
In the last week, CEI volunteers throughout California have participated in a number of nonprofit projects and causes to meet the needs of the disabled, the disadvantaged, the deserving and the perpetually determined.
We were fortunate to partner with Rebuilding Together Silicon Valley on Earth Day, April 22, 2017, to upgrade the home of an elderly resident in East San Jose to remedy tripping hazards, install safety grab bars, fix uneven flooring, update electrical systems, install a new washer and weed throughout the property. We also participated in the American Lung Association's Fight for Air Climb in San Francisco, where employees climbed 47 flights of stairs in a high-rise office building to raise money and awareness for lung-related diseases.
This coming weekend, 22 CEI employees and their family members are participating in the Pasadena Autism Speaks Walk at the Rose Bowl on April 29, 2017. That same day, a team of women in our San Francisco office will be joining other women from Plant Construction, Rebuilding Together and the SF Safe House Volunteer Leadership Team to rehabilitate the SF Safe House building that serves up to 20 women in a residential setting who are recovering from sexual, mental or physical abuse.
It is these unique efforts, led by passionate employees with outstanding project management skills, which remind me that it isn't necessarily what we do that makes the biggest impact, but how we do it--with the same commitment, joy and precision that we deliver to our paying clients.
Whatever you do this Volunteer Week, make it meaningful. #inPowered #PoweredByGood